Thank you to all that attended this years Big Bang South West. Look forward to seeing you all next year!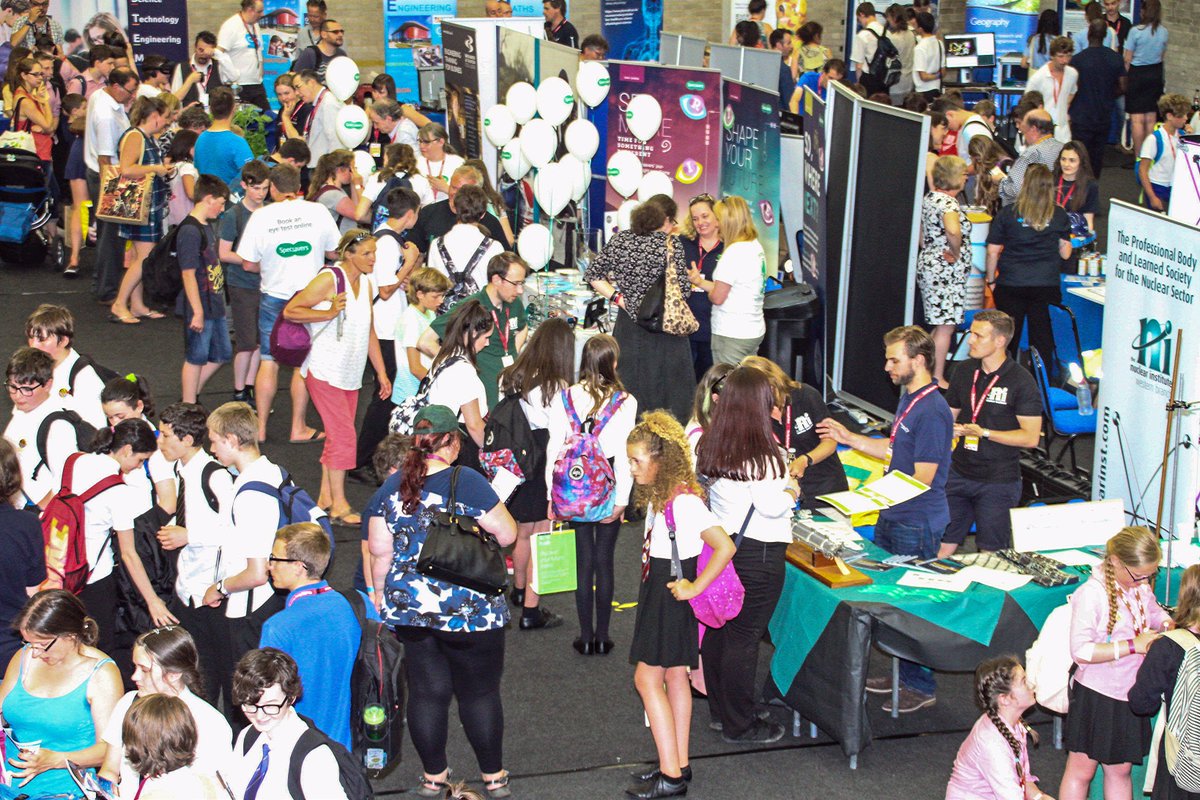 The South West's largest celebration of Science, Technology, Engineering and Maths (STEM) – The Big Bang Fair South West returned to the University of Exeter on June 21st.
Under blazing mid-summer skies, nearly 2000 students from across Cornwall, Devon, Somerset and Swindon descended on the university campus to explore the wide range of opportunities available in the field of STEM. Over 60 local, national and international organisations, including Beckton Dickinson, Babcock International and Spirent were on hand in the exhibition hub to showcase their work and inspire students to broaden their horizons.
An amazing 'Mega Class' in the form of an interactive science session, led by the National Space Academy, took place in the Great Hall and involved more than 500 students. It was rather fitting that on the day of the Queens speech, which contained details of the government's plans to secure growth in the UKs space industry, that the room was buzzing with young people exploring astronautics and the future of spaceflight.
We are also proud to be the host for the regional heats of the prestigious Big Bang UK Young Scientists & Engineers Competition and this year schools from across the Peninsula entered over 50 projects. The competition aims to recognise and reward young people's achievement s in all areas of STEM and provide them with the opportunity to build their skills and confidence in project-based work.
A full list of the winners can be found at the awards section of this website.
Well done to everyone who participated.
30/06/2017
---
Congratulations to all our winners!!
Please refer to the awards section of the webiste for information, or please follow us on Twitter @TBB_SouthWest for all the lastest news on Big Bang South West.
22/06/2017
---
Thank You to Our Sponsors
The Big Bang South West team would like to take the time to thank all of our generous sponsors who supported the Regional Near Me Fair at The University of Exeter on 21st June 2017.
Headline Sponsor:
NCS
NCS South West are extremely proud to have been invited to sponsor The Big Bang Science Fair again this year. The Big Bang is a fantastic opportunity for schools' talented and enthusiastic young scientists to explore and showcase their interest in Science, Technology, Engineering and Maths!
NCS is a chance for young people to embark on exhilarating challenges, make their mark and build skills for work and life. We believe NCS is something that every year 11 and year 12 student should have the chance to do. That's why we're keen to visit schools and colleges across the country to help more young people sign up for this life-changing experience. To find out more, please visit: http://www.ncsyes.co.uk/ncs-for-your-students, or come and see us on the day of the Big Bang itself; we look forward to seeing you there.
---

Babcock International Group
Please check out Babcock Internaional's education website www.babcock-education.co.uk for more information on our Platinum sponsor.
---
Becton, Dickinson and Co.
Please check out Becton, Dickinson and Co. website www.bd.com for more information on our Platinum sponsor.
---
Spirent
Please check out Spirent's website www.spirent.com for more information on our Silver sponsor.
---

Arconic
Innovation, engineered.
Where more than a century of innovation takes on engineering's toughest challenges
Where advanced materials and technologies help transform entire industries
Where the #FutureTakesShape.
http://www.arconic.com/global/en/home.asp
---
Invest in Exeter
Exeter City Council's Growth & Enterprise team provides a co-ordinated, tailored relocation support and advice service for businesses relocating to Exeter.
---
TDK Lambda
Please check out TDK Lambda's website uk.tdk-lambda.com for more information on our sponsor.
---
DELT Shared Services
Please check out DELT Shared Services website http://www.deltservices.co.uk for more information on our sponsor.
---
Building on the incredible success of last year, The Big Bang Fair South West will be returning to the University of Exeter on the 21st June 2017 with a Big Bang like you've never experienced before bringing Science, Technology, Engineering and Maths (STEM) alive!
Featuring explosive theatre shows and engaging, immersive activities, the Fair is more than just a great day out; it is about inspiring young people from all backgrounds to study STEM subjects. The event will be host to many inspirational scientists and engineers who are there to enthuse the engineers and scientists of the future. There are careers workshops to visit and local, national and global companies on-hand to give insight into future fantastic and rewarding careers.
We aim to celebrate the achievements of students and the essential contribution of the parents, teachers and guardians who help put their great efforts together.
We can't wait to inspire the next generation of STEM experts and show you how good 2017's event is going to be!
---
Once again, the Big Bang South West Fair is kindly delivered by the CSW Group.
---